Who are the Best Athletes of All-Time to Play in Cleveland?
I want to start this out with the fact that this was a lot harder than I anticipated. Ranking the top 10 of anything is hard, but when it comes to sports, it's a lot harder. You're always going to think you left someone out and you're always going to want to tinker with it like a fantasy football line-up. But here it is, the top 10 greatest athletes that ever repped Cleveland on the front of their jerseys.
Here we go.
#10 – Kyrie Irving 
I have to include Kyrie in the top 10, I just have to. Understanding where he sits with Cleveland fans currently in 2017 doesn't take away from his accomplishments in his six years donning the wine and gold.
In those six years Irving showed that his one of the top point guards in the league, showing off moves and chopping up defenders like we've only seen sparingly throughout the history of the NBA. Remember the Rookie-Sophomore Game in 2013? He made Brandon Knight look like Joe Shmo at the local YMCA. Let's also not forget that this man hit the biggest shot in Cleveland Cavaliers history, maybe the most important shot in NBA history. And for that reason alone, Kyrie's number 10.

#9 – Otto Graham 
"Automatic Otto" as he came to be called, strapped up for the Brown and Orange for ten seasons. Over those ten years Graham became one of the best quarterbacks in first the AAFC and then the NFL once the AAFC folded. Leading the league in passing yards five times and holding the highest single season quarterback rating of all time until 1989 with a rating of 112.1 in 1946, makes Graham the best quarterback in Cleveland Browns history.
Yes, judging by the past 20 years that title is not a hard one to obtain. But that's not what lands him on this list. Graham led the Browns to four straight AAFC title from 1946-1949 and three NFL Championship titles in 1950, 1954 and 1955. That's why he's on this list. Not to mention a combined five league MVPs and a Hall of Fame induction in 1965. Even though he was number 14 on the field, Graham goes down as the ninth best athlete in Cleveland history.
#8 – Larry Doby 
Doby made this list because he was a great ballplayer for the Indians, no question. But the better, and more important reason he's on this list is because he was the second African-American to play in the MLB. And the first to play in the American League. Even though Cleveland was a couple months late on bringing over a player from the Negro Leagues, and the fact that Jackie Robinson is the more well-known athlete, with good reason, it doesn't take away from what Doby accomplished.
He was a huge part of breaking the color-barrier which is more important than any accomplishment that he reached in the box scores. For his courage and willingness to break down walls, Doby is among the few people in sports that made a difference off of the field, and that's why he's number eight.

#7 – Jim Thome 
The next four names on this list could be flip-flopped in any order you would like, so don't hate me if Thome's your favorite Indian of all-time. There's a very good reason he may be. But in my mind, I have to rank Thome as number seven on this list. Good ol-boy Jim is by far the greatest power hitter to ever grace an Indians' uniform, and that's saying something considering the past that Cleveland baseball has.
The dude smacked 612 dingers over his 22-year career with 337 of those home runs coming in his 12 years in Indians blue. He never won an MVP and he was only an All-Star three times as an Indian, but his impact undoubtedly was on the level of Albert Pujols' Cardinals days or Ryan Howard's Phillies days. Thome's production as an Indian led him to become the all-time Indians leader in home runs and walks, with 337 and 997 respectively. Being the most feared hitter in a lineup that included Albert Belle, Manny Ramirez and Sandy Alomar Jr. is no small feat. But he was, and that's makes him number seven.
#6 – Omar Vizquel 
I could go on-and-on about the wonder that was Omar Vizquel. He's my personal favorite Indian of all-time, but that doesn't mean he's going up as number one in the history of Cleveland, let-alone the Indians. Why he's on this list at number six is the fact that the man, in an era of shortstops that included Alex Rodriguez, Derek Jeter, Cal Ripken Jr. and Nomar Garciaparra, took home eight straight gold gloves from 1994 to 2001.
He was by far, one of the most flashy, efficient and cool-headed fielders the game has ever seen. In eight of his 11 years as an Indian, Omar finished the season with or under 10 errors in a season. For perspective, that's one error or less in every 16 games. It's unheard of. In his 24-year career, Vizquel held a fielding percentage of .985. That's pretty damn close to perfect. The human-highlight reel that was Omar, plus the love poured onto him by the Cleveland faithful put Omar at number 6. Even though he's number one in my heart.
#5 – Bob Feller 
WHAT?! Bob Feller is this high?! I must be high. No, I'm sober. Bob Feller is one of the greatest pitchers of all-time. But, probably to the disdain to many, Feller isn't even the greatest pitcher Cleveland has seen, but I'll hit on that next. Time to respect a legend. The 1962, first-ballot Hall of Famer deserves all of the accolades he receives and more.
Feller, in his 18 years of MLB service including his four years of military service, racked up enough wins and strikeouts to rank number one all-time in both categories in Indians history. Feller started his career at 17-years old, which is unheard of, and played until his was 37. "The heater from Van Meter" was no joke as Boston Red Sox legend called Feller the toughest pitcher he's ever faced. The fact that Feller played his entire career in Cleveland while devoting four years to the military, it's good enough to rank fifth all-time in Cleveland sports history.
#4 – Corey Kluber 
The man responsible, in my eyes, for Feller not being named the best pitcher in Cleveland history is Corey Kluber. I know it may be premature and I could be wrong. I could be getting caught up in the moment, and that argument could easily be made. But from what I've seen from this man, he's the best pitcher in Cleveland Indians history. It's close, but I'm giving Kluber the edge here.
First of all, the man's cutter-slider, whatever you want to call it, is virtually unhittable. Secondly, just look at the past season the two-time Cy Young winner put up. An 18-4 record with a league-low 2.25 ERA and 265 strikeouts while missing an entire month of work is astounding. It's fair to not even put Kluber in the all-time Indians players list, but I put him at number four on this list because of what he has already done in basically five seasons, but also what I think he'll continue to do in his next three to four, which would put him at eight to nine solid seasons and in my eyes, eight or nine seasons is around the bench mark to be considered as a great.
Four straight seasons of 200+ innings pitched, 200+ strikeouts, an ERA under 3.50 with three of them being under 3.15 and a league high of four and five complete games in 2015 and 2017. The dude's on his way to submitting his name in the top 15 greatest pitchers of all-time conversation and could easily get into the top 20 discussion. Disagree, yell, cuss, I don't care. He's the best Indians pitcher of all-time for me.
#3 – Joe Thomas 
Joe Thomas might not only go down as the most likeable Brown in Cleveland history, but also the greatest left-tackle in NFL history. The eleven-year vet's 10,363 consecutive snap-streak will, almost certainly, never be broken in the remainder of the NFL's history.
Thomas has made the Pro-Bowl, discounting the current 2017 season, in every one of his previous 10 seasons. A staple on the Browns since they drafted him with the third overall pick in 2007, Thomas has continued to set the standard of consistency, even though the Browns have only had one winning season since his debut season. If you debate this you're being ridiculous. The Joe Thomas Hour ranks at number three.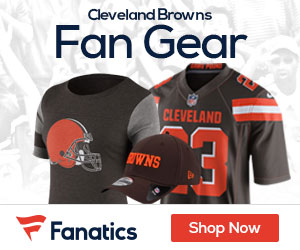 #2 – Jim Brown 
The greatest running back off all-time, and it's not close. Earl Campbell, Barry Sanders, Emmitt Smith and Walter Payton can take a hike. It has been and always will be Jim Brown. The life-long Brown rushed for 12,312 yards in his nine-year career and led the league in that category in all but one of his seasons. Never rushing for less than seven touchdowns and 940 yards means something.
Let alone the fact that Brown was the biggest part of Cleveland's last championship before 2016. Brown sits as number one in Cleveland rushing history as well as ninth in NFL history and was the first player in league history to rush for over 10,000 yards. The legend is currently the only running back in NFL history to rush for at least four touchdowns in five different games, was a three-time league MVP and was inducted into the Pro Football Hall of Fame in 1971. Jim ranks as number two, which means there's only one man for the top spot.
#1 – LeBron James 
It's LeBron Freaking James. Duh. Every other athlete on this list held records for their respective Cleveland teams, or was the best at their position in Cleveland history. But that's Cleveland. LeBron in my mind is the greatest player of all-time to ever step foot on a basketball court.
Yes, he left for four years, but he's back and as dominant as ever. Seven straight finals, four MVPs (two as a Cavalier,) 13 All-Star games and the most important one … (drum roll please,) he brought a championship to Cleveland. Yes, I said Kyrie helped. He helped. But LeBron won the damn thing. He's a freak of nature and right now he's telling Father Time to kiss off. The dominance, the poise, passion, talent and his off-court generosity has led him to be the most recognizable athlete on the planet and he's a Cleveland Cavalier. Number 23 will never be worn by any other Cav in Cleveland history. He's the greatest, the G.O.A.T and Cleveland's lord and savior. He's number one on this list and in my heart.

Honorable Mentions
Manny Ramirez – Indians (check out the full biography here)
Kenny Lofton – Indians
Nap Lajoie – Indians
Ozzie Newsome – Browns
Lou Groza – Browns
C.C. Sabathia – Indians
Mark Price – Cavaliers
Albert Belle – Indians
Other great pages you should check out: